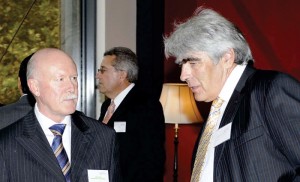 Darcy Geale, Catalyst Senior Consulting Director, Financial Services, in exchange of views with John Dunne, Senior Executive of Westpac Banking Corporation, Australia's leading Bank.
Darcy Geale and Peter Tighe, our Senior Financial Services Consultants were key Members of Our First Energy Bank Team
Catalyst worked with the First Energy Bank from its embryonic stage, playing an instrumental role in transforming First Energy Bank into a fully operational bank in less than a year. Initially, with only limited organisation, people, processes or systems in place to support a banking operation, First Energy Bank engaged Catalyst to assist with its transition into a fully operational Islamic investment bank.
The bank became an organisation capable of delivering on its vision "to create and capture value in the global energy sector." First Energy Bank's focus, targeting the energy industry puts it in the unique position of being able to offer investors superior, specialised opportunities.
The First Energy Bank's Transformation

First Energy Bank based in Bahrain is a pre-eminent provider of Shari'ah compliant investment and banking services with high professional standards upholding values of integrity and transparency. First Energy Bank focuses on investments in the exploration, production, transportation, storage and refining of hydrocarbons, as well as oilfield services that enhance/augment recovery and develop/improve asset efficiencies.

"We had a challenge building a world class organisation in a short period of time. We searched globally for partners to support us in this challenge, and found only a few firms that had the depth of experience and expertise required to make a quantum difference to our efforts. Over the last six months, together with Catalyst, we have achieved tremendous gains. They have made the difference we were looking for."

Chief Operating Officer, First Energy Bank